The Most Important Piece of Gear
Footwear is undoubtedly the most important choice one makes when going out in the mountains. Your shoes will literally make or break your adventure. Oftentimes, the decision is rather complicated, having to weigh many factors like comfort, speed, technicality, terrain, and uncertainty of conditions.
Over the last 5 years, I have learned a great deal about what footwear works for me in the Cascades, so in this article, I am going explain those lessons and what shoes I use. These decisions can be highly personal, depending on style and priorities, so figure out what works for you. This is not a gospel; this is just one person's opinion from somewhat limited experience.
Note: This post contains affiliate links. I earn a small commission on sales via these links at no additional cost to you. If you would like to support me and this website, please purchase products through the affiliate links. Thank you!
Guiding Principles
These are some general concepts that I have found to be recurring themes in my decision making.
1. Comfort is King.
If your feet aren't happy, you won't be happy. No matter how much you want to wear those sexy Alien 3.0s or flashy trail racers, if you aren't comfortable, it's the wrong shoe. Also, when balancing the tradeoff between comfort and performance (for example, when considering a trail runner or approach shoe for a scramble), I almost always lean to comfort. If the decrease in performance is simply too much, then I bring two shoes – one a comfortable pair, the other performant.
2. Light is Right.
There's some old adage like "one pound on your foot is equivalent to five on your back" or something like that. Regardless of the accuracy of this statement, the general idea is correct: every added ounce on your foot substantially affects your performance far more than an additional ounce on your back. Thus, lightweight footwear like trail runners should be used, within reason. Additionally, this implies it is better to bring your mountaineering boots up to snow line on your pack then do the approach hike in heavy shoes. Again, two pairs are actually more efficient than one.
3. A shoe is only good at one thing – or nothing at all.
A good shoe is designed with a single purpose: to crush hard rock, climb ice, ski well, run well, etc. However, our adventures often involve diverse activities: approach via a steep trail, cross a glacier, then climb rock. No one shoe will do all these activities well, despite the advertising claims of manufacturers. If the difficulties are moderate enough, you might get away with a single shoe that compromises various abilities. But otherwise, bring multiple pairs, specific to each activity, or chose your single shoe based on the priority of activities. Usually I'd rather bring two shoes that are perfect for their portion of the intended activity than a single shoe that is underwhelming at both. But sometimes, a compromise is fine, so one shoe that is ok at multiple things is the way to go. It all depends on your objective.
4. Your feet will get wet – thus, breathability is more important than waterproofness.
It's the Cascades, for pete's sake. Keeping dry feet is harder than driving by a milkshake stand and not lightening your wallet a little. Even supposed GoreTeX shoes are no match for sustained wet bushwacking or hours of post holing in sloppy spring snow. Then there's also just the sweat from your own feet. For a single day trip, you might be able to keep your feet dry. But on multi day trips, I find that it is much better to just accept wet feet, mitigate issues with good foot care, and dry shoes at every opportunity. Once a GoreTeX shoe gets wet, it is staying wet, but trail runners can dry out, even while on the move. When stopped, take the liners out, throw some drier sheets in, and things will dry out surprisingly quickly. Rotate socks frequently. The main exception to this rule is on trips where the temperature is cold enough that the waterproofness is needed to help trap heat.
5. Warmth comes from the shoe, not the sock.
The Cascades are rarely very cold, but warmth can still be an important consideration. There's a common misconception that you can add warmth by wearing thicker socks. However, this often just messes up the fit of your shoes, leading to less blood flow, blisters, and cold and unhappy feet. If you have cold feet, the best choice is to get warmer shoes.
6. Trail runners are for more than trails.
Trail runners in the alpine used to just be for the fast and light Kilians of the world, but I think more and more people are realizing that they make your feet more comfortable, agile, and breathable than thick mountaineering boots. Even when going slow, it's just nice to not have bricks on your feet. Trail runners can prove effective on rock, snow, and virtually any medium except for ice, when on the feet of an experienced traveler who understands their limitations. As for the common critique of needing ankle support, I will just say that in all my mountain adventures, I have never sprained my ankle in trail runners.
7. Rock shoes are really light; when in doubt, bring them.
As much as I love to flex and say I did everything in trail runners, trail runners don't climb mid 5th class well. If there's any doubt about the technical rock difficulties, bring real rock shoes. A pair weighs one pound and the security of climbing in real rock shoes will allow you to bring less technical gear (cams, ropes).
8. When pushing your limits technically, prioritize technical performance.
I know I've been spitting all the virtues of fast and light and trail runners, but there are times when technical performance should be the top priority. Climbing a hard ice or rock route near your limit? Well then some extra ounces won't hurt, especially if the alternative is being gripped or risking safety. It's great to push yourself technically or physically, but not both at the same time; that's a recipe for failure.
Considerations
How long is your trip?
On shorter trips, durability is less of a concern. On longer trips, I tend to gravitate towards shoes with fewer failure points and simply newer pairs. A shoe failure can absolutely ruin a trip and leave you in a bad spot. Bringing some repair tape and Shoe Goo is not a bad idea. Additionally, longer trips may have more unknowns with conditions, so you have to be more cautious with gear decisions.
What are your priorities?
Implicit in all my opinions is the desire for efficient movement. If you really don't care about speed, then you might lean more towards heavier footwear when weighing tradeoffs. If you get cold feet easily, then you need to lean more towards warm shoes. Your decisions should complement your personal style.
How are experienced are you?
With experience, you can better anticipate conditions and what gear will be needed. When less experienced, you have to leave a larger margin for safety, which sometimes means bringing those heavier mountaineering boots instead of trail runners if, for example, you are not sure how steep or firm the snow will be. That's okay. In retrospect, it's much better to have a few extra pounds on your back then be turned around because you were not prepared. Next time you go, you can slim down those grams and be even faster. It's all a part of the learning experience.
How willing are you to turn back?
When pushing the boundaries of fast and light alpinism, you might find yourself underprepared for the conditions. If you're attempting the Sherpa Glacier in running shoes, you might have to turn back if you run into some alpine ice. To push the limits of speed, you have to be willing to turn back and accept not making your objective because your margin for error is so small. It's important to go into an objective with this mindset, or you might make an unsafe decision in the moment. If you care more about completing the objective at all costs, err on the side of safety and be over prepared.
Sizing
You can completely adjust a shoe's purpose by its sizing. Size up to give your toes space and comfort, but this will sacrifice scrambling ability. A tight fit will give superior climb-ability and technical trail performance but could ruin your toenails in the long run. Size your shoes with a specific purpose in mind.
Classes of Footwear (Updated Fall 2022)
Now I am going to discuss different "classes" of shoes and their respective purposes in the mountains.
3 Season Mountaineering Boots
This is likely the first pair of shoes an aspiring mountaineer will buy (it was my first) and ironically, the least useful. They are okay at most things, but really good at nothing. They are somewhat heavy, terribly uncomfortable to walk on dry ground in, not rigid enough for real ice climbing, not warm enough for true winter use. There are a few routes (late season Fisher Chimneys, Forbidden early season) where I could see them being useful as an all arounder to handle moderate rock and steep snow, but honestly, I haven't touched mine in the last two years because there is usually a better, more specific option. However, the addition of some modern shoes like the Scarpa Zodiac Tech (lighter, more performant) could revitalize this category.
4 Season/Technical Mountaineering Boots (La Sportiva Nepal, Scarpa Phantom Tech)
This is your full-shank, warm boot for ice climbing and cold winter ascents. If you have the $$, the supergaitered single boots like Scarpa Phantom Tech are superior to traditional boots like the Nepals. These boots have horrid on trail performance, but work well when paired with trail runners during approaches to alpine ice climbs. If you have no intentions of venturing in cold temperatures or climbing technical ice, these are unnecessary. Double boots might be preferred by some on Rainier climbs or middle of winter climbs, but I also have found Nepals warm enough for the stuff I do (no Rainier in the middle of winter). Double boots can be handy on multi day trips because you can dry out the liners in your sleeping bag. Note that ski boots (more on them later) are double boots themselves and generally warm enough for Cascade winters.
Gaitered Approach Shoe
This is a very niche type of shoe: lightweight, waterpoof, semi-stiff (but stiffness can vary greatly). Admittedly, the XA Alpine (less stiff) and Ribelles have completely different stiffnesses. There are a bunch of different versions of the Ribelles, and some can even climb AI2-3, so this covers a huge range and could be worthy of an article in itself. You could say the Ribelles are more like a 3 season boot, just lighter. I think this type of shoe can make a lot of sense for certain fast and light, semi-technical missions (couloir climbs or ridge scrambles) in early summer where there is still substantial snow coverage. They also might be fine for summer walkups of volcanoes, if your feet don't get cold. They're usually too hot and rigid for long approaches. Durability is often poor with the gaiter. If you need this shoe, you will know it. Otherwise, spend your cash elsewhere.
Approach Shoe
There has been an explosion in approach shoe offerings lately. Approach shoes are low cut like trail runners, but with a stiffer sole and a climbing zone underfoot. They often climb up to 5.6-5.9 well, depending on your comfort level. In my personal opinion, any approach longer than about 4 miles is too long for these shoes (this may just be a personal problem), but some can hike longer distances in them. The new TX Guides are supposed to be better for hiking but I haven't tried them yet… There's this misconception that approach shoes are the one shoe for a long approach and then technical climb, when in reality, they don't do either of these activities particularly well. They are made for sustained 3rd to mid 5th class scrambling, and do that quite well, but they don't do much else well. The lack of lugs actually make them absolutely terrible in mud or steep grass, both of which we have a lot of in the Cascades. I think there are a few areas where they are super useful – scrambling in the Snoqualmie Pass region, doing scramble circuits in the bomber granite of the Wasatch – but their application is relatively limited in the Cascades. If you're expecting lots of 4th to mid 5th, but nothing harder, and a short approach, these shoes offer a great deal more performance than normal trail runners. However, approaches in the Cascades are usually long and varied enough that I just don't find myself using them that much. Usually, I'll just go with a comfy trail runner for the approach and true rock shoe for the climbing. The one time I'd use them for an approach hike over trail runners is if significant firm snow is expected because the rigidity allows for easier kicking steps.
Approach-like Trail Runners
These trail runners blend the line between normal runners and approach shoes, sporting a trail running last but climbing zone under the toe. I personally think they are incredibly niche. They are generally subpar for actual trail running but lack the stiffness and climbing ability of a true approach shoe. I used these on the West Ridge of Stuart, but my feet were pretty uncomfortable by the finish. I see the application of these to be similar to approach shoes, but just with a little more trail and less climbing. The climbing ability is marginally better than a technical trail shoe. But the running comfort is quite a bit worse. So if the approach/descent composes 80% of the day, why use a shoe that is subpar for 80% of the activity and then only ok for the other 20%? Well, actually, if you just wanted the simplicity of a single shoe, then that would make sense. Or if the 20% had much higher consequences (fall and injury) vs. the 80% (blisters)… So there are reasons to compromise.
Aside: Mud vs Scramble Performance: For mud traction, ideally you want a flexible sole with big lugs. For scrambling, you want a stiffer sole with small lugs. Thus, performant shoes for these two activities are mostly mutually exclusive. Finding the shoe for you involves compromise or choosing the right shoe depending on the objective. More often than not, in the Cascades, I lean towards mud performance.
Gaitered Trail Runners
These shoes strive to have the comfort of a regular trail runner but the addition of a waterpoof gaiter and outer. If you do a lot of spring – early summer mountaineering and trail running, these are clutch. On an early summer Ptarmigan Traverse, they kept water out for the better part of three days through lots of wet brush and snow. However, once they do get wet, they become heavy and will not dry out easily. As I've become more of a spring skiier, I've used these shoes less and less, but I still think they're very useful to have in the quiver, especially if you're a trail runner itching to get into the alpine in the spring.
Rugged "Off -Trail" Trail Runners
These are the high route shoes. Burly, durable, and protective. I love the toe cap of the Ultra Raptors, saving your feet from painful stubs while chossineering and allowing for surprisingly solid kick steps in snow. The Ultra Raptors last probably 2-3x times longer than most other trail runners in destructive high route terrain. They're not the lightest or most comfortable on trail, but damn they can take a beating, and I know I can depend on them for weeks at a time. We like to think that alpinism in the Cascades is all beautiful splitter granite and high glaciers. Unfortunately, there is a ton of mud, choss, and garbage. These are the shoes to do the dirty work.
Technical Mountain Trail Runners
For a mix of trail running, scrambling adventures, in addition to most approaches, these all-arounders are the ticket. Thick lugs for traction, underfoot protection, still light and sensitive enough for running. Lug size is particularly important in the PNW with our all mud and steep brush. These are workhorse shoes that I find myself reaching for more than any other pairs. If you could only own one pair of trail runners, I'd get one from this category.
Even within this category, you will find a huge variety of shoes in terms of protection, cushioning, weight, fit, and feel. It can be overwhelming to read about all the different options and difficult to discern differences. Finding the right trail runner is a process, and will take time.
All Around Trail Runners
These shoes are similar to the previous category, but lean more towards off trail travel. For general training runs and trail runs, these are great shoes that probably are a little more comfortable and lighter than the previous category.
Cushioned Trail Runners
Running the Timberline Trail around Hood or Loowit around St. Helens? These are the shoes for cruising easy trail miles. Supportive, soft, they'll get you through 50 miles with a smile still on your face. They often suffer in off trail performance, but that's not what they are for. If you're not actually a trail runner, more of a mountaineer or rock climber, you don't need a pair in this category because you will probably never log enough miles on a trail to matter.
Lightweight Race Trail Runners
For 99% of people, these shoes have no purposefulness as normal trail runners. We're just not fast enough that shaving a few more ounces will matter. Instead, we'll get shin splints and injuries. Where I actually use these shoes is ski traverses (and carryovers in general): they're uber light and take up minimal space in my pack and are sufficient for the two mile approach hike and descent. On a one day push of the Isolation Traverse in May, they helped keep my pack weight down.
Aside: What is "drop"? "Drop" is heel drop, referring to the difference in height between your heel and forefoot in millimeters. Personally, I like running with a 4-8mm drop. You might hear a lot of advertising about zero drop shoes, how they are better for you and more natural. That might be true. But also consider this: I've never heard of anyone getting injured from having heel drop in their shoes. I can't say the same about zero drop.
Rock Climbing Shoes (endless options)
Dozens of options here. Unless you're climbing 5.10 and higher, I think that comfort is the most important factor for those long alpine climbs. For that reason, I actually frequently use the cheapest and least aggressive shoes (La Sportiva Tarantulace). Any rock shoe can climb 5.8, So it might as well be comfortable. If climbing in colder temps, I'd size up so you can wear socks.
AT Ski Boots (too many options)
I'm not going to go into great detail here, because many articles could be written on this topic, and I'm definitely not an expert. For mountaineering purposes, you want a "two buckle boot" ala Scarap F1 LT, Dynafit TLT8, Atomic Backland, Fischer Traverse, etc; For more info on ski gear, read my post about getting into backcountry skiing. If you intend on doing any ice climbing, I'd stay away from the TLT line because of the speed nose, which I've found to be slightly less secure than a fully automatic crampon. I actually love ice climbing in ski boots because you can lock the forefoot to reduce calf burn. If you're doing some cutting edge mixed climb, the mobility might be limiting. Are you a splitboarder who wants to ice climb? Time to get the hard boots.
Crampons
For most non-technical objectives, I believe aluminum crampons are sufficient. Durability is not as bad as they lead you to believe, but be sure to take aluminums off for extended rock travel. Anti-balling plates are important for most spring-summer climbs. I like a pair of universal aluminums for trail runner compatibility, but automatic aluminums are great for booting couloirs while ski mountaineering. Any real ice climbing needs steel front points, preferably vertical, and monopoint if there's any mixed involved. I like the Petzl Dartwins for all their customizability. If you have the Petzl Leopards, you can use the dyneema and heel peice of the Leopard with the steel front of the Darts for an ultralight, technical ice slaying machine. Anthony used this combo to great success on our speed climb of the NW Couloir of Eldorado (sub 12 hrs c2c).
You'll see me using strap on crampons on trail runners a lot. The type of trail runner is integral to the comfort and performance of the crampon. Most of the cushioned or lighter trail runners absolutely suck with crampons and the straps dig in and could actually destroy the upper mesh on the shoe. Stiffer shoes like the Mutants or Ultra Raptors are preferable for crampon use.
Microspikes
Microspikes, like Kahtoolas, have a limited, but notable place in the Cascades. They're far more comfortable with trail runners than crampons, but not really any lighter and definitely far less secure. In late fall (Heliotrope Trail in November), they can be absolutely essential on icy trails. In late summer, they can be helpful on flat alpine ice and lower angle snowfields. But if the slope angle is any more than 30 degrees, I will bring real crampons. For simply icy trails, there are some shoes where you can screw in small track spikes. There are relatively few trips each year I bring microspikes, but they are very handy when I do use them.
Snowshoes
You mean "slow shoes"? Um… learn to ski. Trust me – it's so worth it. In all seriousness though, there might be occasional times when you cannot ski but need snowshoes – perhaps early fall after a heavy snowfall but with no base. If you're snowshoeing in freeze-thaw conditions, be sure to get mountaineering snowshoes, the ones with side crampons. Traditional snowshoes cannot bite in any icy snow and are usually way too large.
Hiking Boots
What have I left out? Hiking boots! They really have no place, unless you are really tied to ankle stability or walking through mud. I haven't used a pair of hiking boots for years.
The Shoes I Use
I'm just going to talk about the shoes that I feel strongly about here:
Example Missions
Next, I'm going to give some hypothetical routes and discuss which footwear I'd choose for the mission. This is the application of all we have discussed so far.
On a big ski traverse like this, I start in my lightest trail runner. I'd only consider doing the hike in ski boots if it was shorter than 30 minutes or so on either side because it's so uncomfortable. Given that 90% of the time, the trail runners will be in my pack, you could argue that their primary function is to be as light as possible, and this should be the only real quality I consider in shoe selection.
Eldorado Peak, late spring
Eldorado is an out and back, so there's no question about starting in some tough trail runners (lugs important for the steep mud) and ditching them at snowline. For simple snow walkups, I'd use the Salomon XA Alpine (gaitered approach shoe) or maybe something a little warmer if needed.
Pro tip: when leaving behind approach shoes for the return trip, always hang them in a tree or out of reach of rodents, who like munching on them.
Gaitered approach/trail shoe (with aluminum crampon), with possibly rock shoe. The trail approach is short, but there is considerable steep snow up high. A gaitered trail or approach shoe (Salomon XA Alpine, La Sportiva Crossover, Scarpa Ribelles) can keep your feet dry and tackle the couloir. If you need the security of rock shoes for the low 5th climbing, bring rock shoes too. When we climbed it, Anthony brought only trail runners and strap on crampons. Temperatures were extremely warm and we went later in the day to ensure the snow would be soft. This is an example of how you can push the limits of footwear if you have intimate knowledge of the conditions you will encounter.
Rock shoes for the climb, rugged trail runners with your lightest crampons on the approach. You might be able to get away without crampons by brining boots or something that can edge in snow, but that would not be worth the extra weight on your feet for the rest of the day.
Kautz Glacier (carryover), mid summer
This is a tricky one because it involves semi-technical ice, extreme elevation changes, and a carryover. I'd probably approach in my lightest trail runners, and then climb in a lighter four season boot. For a really fast moving party that doesn't get cold feet, something slightly less technical and warm like Scarpa Ribelle Techs or Zodiac Pros might work.
There's a lot of real scrambling on this route, but also a ton of scree skiing and choss, and not much trail running. If you feel solid on rock, I'd bring Ultra Raptors just so you don't destroy your shoes on one trip from all the scree. For better rock performance, bring an approach focused trail runner like the Salomon XA Alpine Pro.
The Tooth, mid summer
With a relatively short approach and mid 5th rock, approach shoes do the trick. Going fast? Some approach focused trail runners like the Salomon X Alpine Pros might shine.
There's two ways of skinning this cat. If you're on snow from White Pass all the way to the summit, a gaitered running shoe would serve you well. If trying to go faster or expecting less snow, a technical all around trail shoe like the Sense Ride 3 or Mutants is best. They run well on trail but can also handle the snow and choss.
It is mind boggling to consider that some parties do the entire approach and descent (> 20 miles on trail) in 3 season boots or even approach shoes. Comfy trail runners are an absolute must for the approach. The technical difficulties are not great and could easily be managed in running shoes, but in my opinion, the climb is long enough that it is worth it to bring very light approach shoes (Evolv Cruzer) or climbing shoes for the actual climb. Strap on crampons for the glacier. Hopefully the glacier doesn't involve any ice downclimbing or shenanigans like that.
After all the snow is gone, this route is very manageable in trail runners the entire way. But most would prefer the security of approach shoes or climbing shoes while actually climbing. The approach and descent is long enough that I wouldn't want to do the whole thing in approach shoes. There is a lot of 3rd and 4th class where I wouldn't want to wear climbing shoes the whole time. So I think the optimal solution is either to just climb the entire thing in some approach focused trail shoe like the Dynafit all mountain or approach and scramble in Mutants/Ultra Raptors (which excel in that sandy descent and on the 3rd/4th class) and climb the 5th class in rock shoes.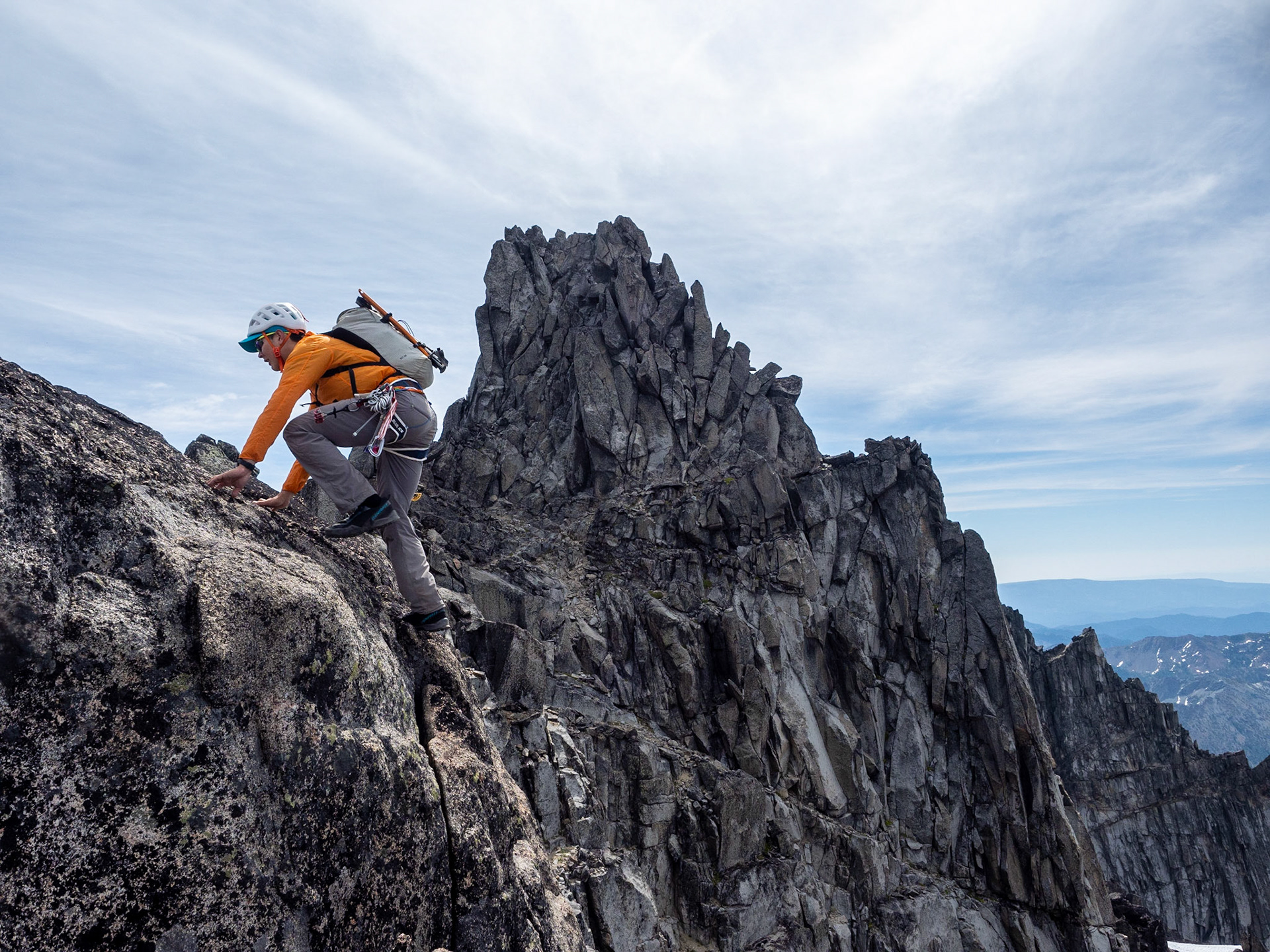 Fisher Chimneys, late summer
This is an extremely varied route, involving a moderate approach, 4th class scrambling, possibly some low angle alpine ice, and glacial travel. If you have Scarpa Ribelles, they might shine here. Depending on your comfort level, you might be able to do the whole route in a 3 season mountaineering boot. However, you can always bring two shoes: an approach shoe or capable trail runner for the rock, and ice boot for the snow/ice.
Ptarmigan Traverse, late summer
With less snow travel, I'd go with a rugged off trail shoe like the Ultra Raptors and strap on aluminum crampons. If you're going for an FKT, maybe a slightly lighter trail shoe like Salomon Sense Ride 3.
NW Face Forbidden, late summer
This one is a doozy: a steep forested approach, possible steepish alpine ice, and then 5.8 rock climbing. Ideally, you'd bring three shoes, but that's just too much. The two shoes I'd bring would depend on your abilities. If you can climb 5.8 in approach shoes or mountain boots, I'd bring 3 season mountaineering boots or Ribelles for the ice/rock and trail runners for the approach. If you need rock shoes for the rock, then I'd suck it up and do the approach in 3 season boots or approach shoes (if you are very competent on alpine ice with non rigid approach shoes). This is a really challenging situation and honestly I'd just try to avoid this kind of situation, partially because of these footwear complications. There is a season when this climb is much more straightforward (early to mid summer).
If there's not enough snow to ski, I'd hike the trail in trail runners (possibly with microspikes, because that trail gets real icy) and then approach and climb in my 4 season ice boots.
Blisters
Nothing ruins a trip like getting blisters. In my experience, blisters mean something isn't quite right about the fit of the shoe. The interface between your foot's skin and sock and inner shoe is sliding around, causing friction and ultimately blisters. If you feel your forefoot repeatedly sliding around inside your shoe (especially on steep descents), it is probably too large and or you need to tighten your laces in your forefoot. Blistering in the heels can be more difficult to deal with and may indicate that your shoe simply doesn't fit your foot shape.
A few other tips for dealing with blisters:
How do I pick a shoe?
I talk about a lot of different shoes and it may seem intimidating and costly to build up the quiver. Start simple: 3 season mountaineering boots, rock shoes, all around trail runners. Then start adding pieces to the puzzle based on your experiences in the field, your style, and specific objectives.
To learn about shoes, I talk to others, read reviews, and browse the web. Some great sites for information are:
There's no substitute for trying on shoes and determining fit (comfort is king!). After narrowing down your options via research, try on different pairs and sizes at your local shoe store. If it is not available locally, most online retailers have generous return policies, allowing you to order a bunch and return what doesn't work.
Finishing Thoughts
If you read this far, then I'm extremely appreciative you took the time to hear my thoughts about footwear in the Cascades. There's so much to all these topics; I feel like I just scratched the surface on most. I could write dozens of articles about each specific type of shoe, but there exists tons of other more in depth resources out there, and I have a lot to try and learn.
Remember: what works for me will inevitably be different than what works for you; try different strategies and shoes and reflect on the decisions you make. Experimentation is key. Above all else, realize that there is no one perfect shoe; all decisions you make are ultimately compromises so you need to understand your priorities and tailor your decisions to that.
Be purposeful, not just in which shoes you choose to wear, not just in how you experience the mountains, but in all aspects of life.
Have anything to add? Triggered by any of my opinions? Comment below!
Disclosure: I am not sponsored by any of these companies, although maybe I should be. 😉